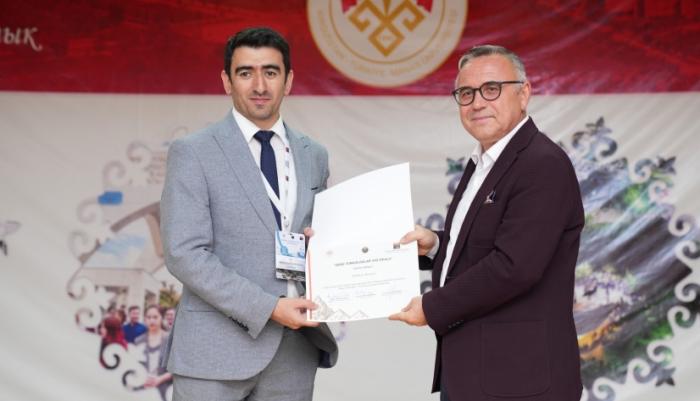 On June 18-26 Turkish Academy of Sciences and Manas University held the "Summer School of Young Turkologists" in Bishkek . President of the Turkish Academy Shahin Mustafayev, President of the Turkish Academy of Sciences Muzaffar Sekar, Rector of Kyrgyzstan-Turkey "Manas" University Alpaslan Ceylan and Professors attended the opening ceremony of the event held in Kyrgyzstan. Speaking at the opening ceremony, the head of the Turkish Academy, Shahin Mustafayev, noted that Turkology is a science based on values and aimed at modern state building. Therefore, it is extremely important for Turkologists, as multidisciplinary experts and real scientists, to communicate and create a single scientific environment with a common agenda, which is of great importance for Turkish states striving for multifaceted integration.
It should be noted that the "Summer School of Young Turkologists" organized by the Turkish Academy for the first time aims to support young scientists engaged in research in the fields of Turkic studies, Turkish history, Turkish literature, anthropology, cultural studies.
The summer school will allow young scientists to get to know each other, present their projects and research, acquire new information, and create networks for professional purposes.
28 young Turkologists (Azerbaijan, Kazakhstan, Kyrgyzstan, Turkey, Uzbekistan, Bashkortostan, Tatarstan, Hungary, Macedonia and Bosnia and Herzegovina) selected from several stages and among hundreds of applications participated in 22 lectures and discussions on the topic for six days. One of them is Mehman Hasanli, deputy director of the Institute of Literature named after Nizami Ganjavi, Ph.D. in philology. The young Turkologist scientist notes that the "Summer School of Young Turkologists" has separate meetings, cultural programs, etc. thanks to such activities, the foundation of new relations and future joint activities at the scientific level was laid.