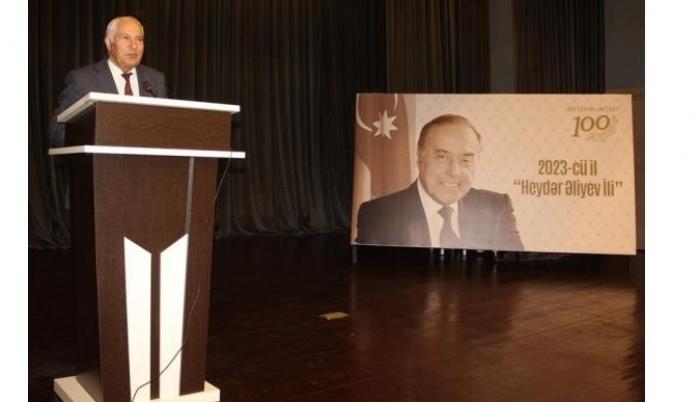 Tovuz District Executive Authority held the event on "Savior of our national statehood" devoted to the June 15 - National Liberation Day, .
The event was declared open after the National Anthem of the Republic of Azerbaijan was played. The head of the Republic of Azerbaijan, Mammad Mammadov, made a speech and emphasized the historical importance of June 15 - National Liberation Day, and talked about the unparalleled services of the national leader Heydar Aliyev for the existence of the independent state of Azerbaijan and its formation as a powerful country.
Invited to the event of the district community as a guest, Prof.Dr. Asif Rustamli gave a broad and comprehensive report on "National Leader Heydar Aliyev's rescue mission and Azerbaijani literature".
Later, the chairman of YAP Tovuz district organization Nihad Panahov, director of Tovuz Vocational Lyceum Nijat Goyushov, chairman of Azerbaijan Karabakh War Disabled, Veterans and Martyrs' Families Public Union Ali Aliyev and director of Hajialili village comprehensive secondary school named after Gasim Rzayev Mehriban Rustamova spoke, At the beginning, they informed the participants about the urgent measures taken by Heydar Aliyev, who deeply analyzed the events taking place in the country, to ensure the independence of Azerbaijan, to strengthen it, to establish a democratic legal state in the country, and to carry out fundamental reforms, such as social and political stability, rule of law, and ensuring the rule of law. It was emphasized that the great leader Heydar Aliyev's greatest service to our nation and our history was to save Azerbaijan's statehood and save Azerbaijan from the danger of disintegration.