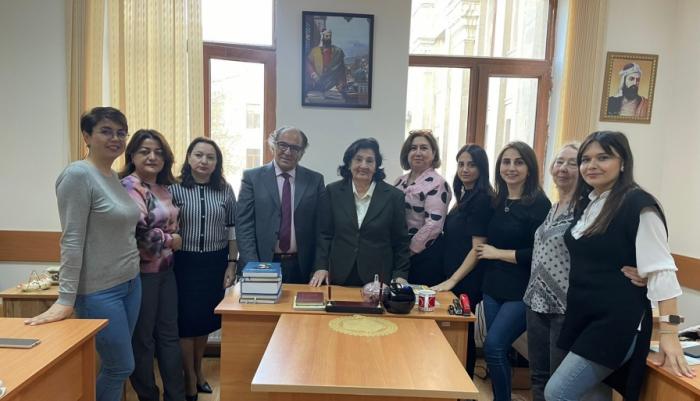 Professor Nimet Yıldırım, head of the Persian language and literature department of Erzurum Atarük University, Turkey, translated the poem "Iskandername" by the 12th century Azerbaijani poet Nizami Ganjavi into Turkish.
While being a guest of Professor Nizami Ganjavi Institute of Literature, he got to know the Nizami studies department in order to present his newly translated book.
Affected by the meeting, Professor Nimet Yildirim shared his impressions:
SONSUZ ŞÜKRANLARIMLA...
Azerbaycan Milli İlimler Akademisi, Nizami Gencevi Adına Edebiyat Enstitüsü Bakü'de ziyaret ettiğimiz en önemli edebiyat merkezlerinden biri. Milli İlimler Akademisi'nin son derece görkemli binasında çalışmalarını sürdüren enstitünün çok değerli hocalarıyla tanışmak benim için çok anlamlı ve değerli oldu. Kurumdaki çok değerli Nizami araştırmacıları saygıdeğer hocalarımızın özellikle yıllardır arzuladığım hayalini kurduğum çalışmalarıma ufuk açan kıymetli görüşleri, karşılıklı görüş alışverişlerimiz, bundan sonra birlikte yapabileceğimiz çalışmalar konusunda alabildiğine aydınlatıcıydı.

Özellikle Genceli Nizami konusunda yoğun çalışmaları olan bu değerli enstitünün çok kıymetli hocaları; Prof. Dr. Nuşabe Araslı, Prof. Dr. Almaz Ülvi Binnetova, Prof. Dr. Zehra Allahverdiyeva, beni hocalarımızla tanıştıran Doç. Dr. Tehmine Bedelova, Doç. Dr. Konul Rahimova Haciyeva, Doç. Dr. Aygün Bağırlı, Doç. Dr. Vefa Haciyeva, Doç. Dr. Helena Teyer; Araştırmacılar: Dr. Lale Hidayet Kızı Paşayeva, Dr. Hurnisa Beşirova, Dr. Samira Aliyeva, Dr. Masume Rızayeva hocalarımıza gösterdikleri nezaket ve sıcak karşılamalarından, olağanüstü misafirperverliklerinden dolayı sonsuz şükranlarımı sunuyorum.