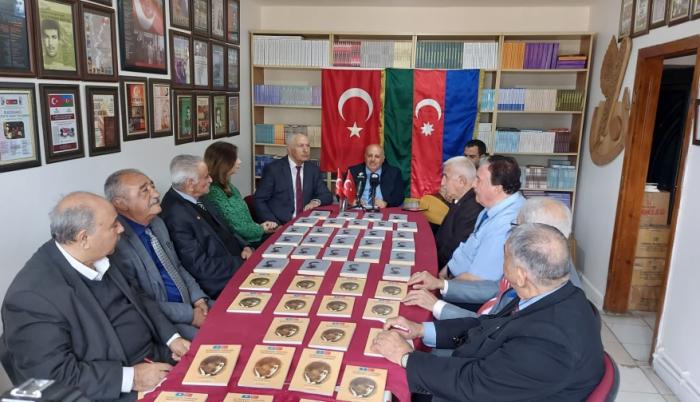 Firat University and Manas Culture Center held a conference devoted to the 100th anniversary of National Leader of the Azerbaijani people, winner of the International Atatürk Peace Prize, world-famous statesman Heydar Aliyev in Elazig,Turkey.
Muhammad Bashir Ashan, Professor of Fırat University, Doctor of History, who opened the event, noted that the theme of the conference has devoted to the "Heydar Aliyev and contemporary Azerbaijan", the important role played by the 100th anniversary in the history and destiny of the Azerbaijani people, economic, social, socio-political among the Turkic states, brought to the attention of the participants of the event with new and interesting facts his services in the direction of expansion and intensification of literary and cultural relations.
Professor Asif Rustamli, senior researcher of the Institute of Literature after Nizami Ganjavi of the Azerbaijan National Academy of Sciences, Doctor of Philology was invited to give a speech on the topic "Heydar Aliyev and the Turkic world".
Prof. Dr. Asif Rustamli talked about the unparalleled services of the great leader Heydar Aliyev, whose 100th anniversary was celebrated, in strengthening Azerbaijan-Turkey socio-political, literary and cultural relations. The speaker gave examples of the great leader's speeches at the jubilee events of the epics "Kitabi-Dade Gorgud - 1300", "Manas-1000", which are among the common literary and artistic monuments of the Turkish people, "symbols of wisdom, intelligence, heroism and courage", "Kitabi-Dade Gorgud", "Koroglu" epics, from the genius thinkers and masters of words, Nizami Ganjavi, Yunus Amre, Imadaddin Nasimi, Alishir Navai, Muhammad Fuzuli, Mahtimgulu He brought to the attention of the conference participants the thoughts and assessments of the great leader about Faraqi and others.
At the conference, the Department head of Firat University, Prof.Dr. Ercan Alkaya, Prof.Dr. Ahmet Buran, Assoc.Dr. Shabnam Farzali, head of Manas Culture Center Muhammed Sener Bulut, Muammer Aksoy, Zekeriya Bican and others. speaking, they specially emphasized that Heydar Aliyev is a phenomenal personality in the world, a statesman, a unifying leader among the Turkish states.
Tuncer Sonmez, Gunerkan Aydogdu, Hadi Önal, İlhami Bulut, Mahir Gurmuz, Ziya Tunctek, among Elazig poets, read poems dedicated to Azerbaijan and Heydar Aliyev, artist-composer Mustafa Öztürk performed Azerbaijani songs that the great leader once loved.
The conference was covered by "Kanal-23" and "Kanal Fırat" television channels operating in Elazig city and "Fırat" newspaper.