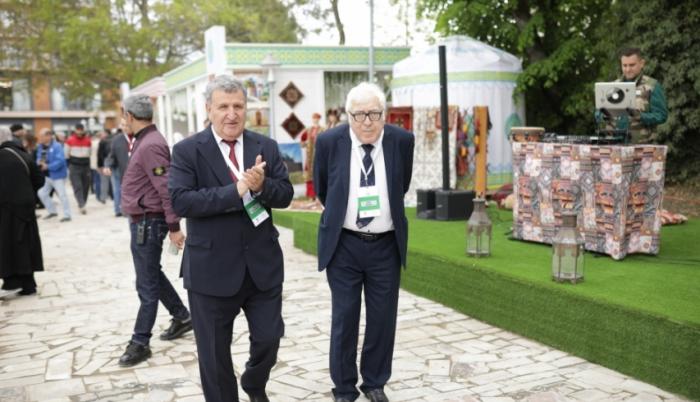 The International "Kharibulbul" Music Festival, organized by the Heydar Aliyev Foundation and the Ministry of Culture of Azerbaijan, starts today in the cultural capital of Azerbaijan - Shusha.
The festival participants have been gathering in Shusha since yesterday.
The city of Shusha was also declared the "Cultural Capital of the Turkic World" by the International Organization of Turkic Culture (TURKSOY) in 2023. "Kharibulbul" is also attended by creative collectives of the countries belonging to TURKSOY, Turkic-speaking countries and peoples of the region this time.
Kazakhstan, Kyrgyzstan, Hungary, the autonomous Gagauzia territorial entity of Moldova, Uzbekistan (as well as Karakalpakstan Autonomous Republic of Uzbekistan), the Republics of Altai, Khakassia, Sakha (Yakutia), Tatarstan, Tuva of the Russian Federation, the Turkish Republic of Northern Cyprus, Türkiye and Turkmenistan will take part in the festival, which will last from May 9 through 11.
The Khari Bulbul Music Festival is an international music festival held in Shusha and other cities of Karabakh. The festival was first held in 1989 to commemorate the 100-th anniversary of the Azerbaijani khanende (singer) Seyid Shushinski, and it was held annually until 1992, when the city was captured during the first Karabakh war.
The festival was reinstated in Shusha, the cultural capital of Azerbaijan, on 12 May 2022, when Azerbaijan regained control over the city during the second Karabakh war in 2020.
Since 1990, the Kharibulbul festival has received international status. Inviting folklore groups from foreign countries to the event aroused great public interest. The 5th 'Kharibulbul' International Folklore Festival was held in Azerbaijan's Shusha from May 12 through May 14, 2022.