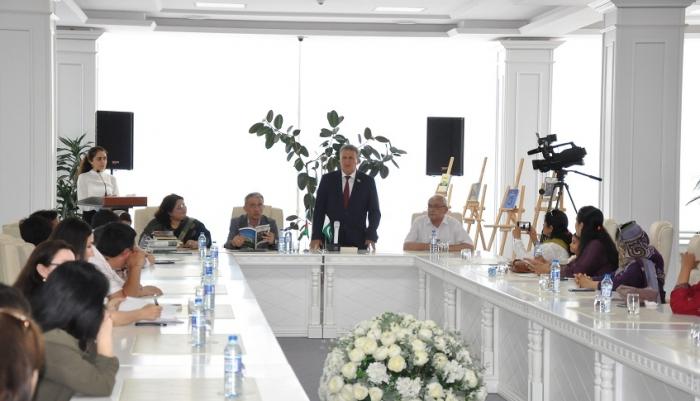 Within the framework of the International Conference on "Azerbaijan-Pakistan Scientific and Literary Relations" ANAS Institute of Literature after Nizami Ganjavi was opened the Pakistani Corner at ANAS Central Scientific Library titeled "Pakistan: Brief Historical and Political Essays".
Salim Babullaoglu, Elkhan Zal Karakhanli and Seyfeddin Huseynli, representatives of the Azerbaijan Writers' Union also attended the presentation.
The presentation began with the opening speech of Vice-President of the Azerbaijan National Academy of Sciences, Director of the Institute of Literature, Academician Isa Habibbeyli. Academic noted that, "We are presenting a special issue of world literature dedicated entirely to Pakistan. The Pakistan issue of the journal was created under the leadership of the secretary of the AYB, Salim Babullaoglu and with the great efforts of the editor-in-chief of the journal Seyfeddin Huseynli. The book includes the works of 44 Pakistani poets and writers and information about them is given.
Director of the Institute of Literature and the President of the Pakistan Academy of Literature wrote a preface to this issue of the journal. I believe that the Pakistani issue of the "World Literature" journal published by the Azerbaijan Writers' Union is the most reliable source in Azerbaijan in terms of studying the literature of our brother Pakistan.
At the event, poet, book translator and author of comments Elkhan Zal Garakhanli, head of International Foundation after Mahmud Kashgari, gave information about the creation of the "Selected works" of Muhammad Iqbal, and Salim Babullaoglu, chairman of the Literary Translation and Literary Relations Center of AYB, gave information on the creation of the special issue of Pakistani literature. Basira Azizaliyeva and Shahla Gurbanova, employees of the Institute of Literature also delivered a papers.
Professor Saima Iram, head of the Urdu Language Department of Lahore State College University, said in his speech that they were satisfied with their visit to Guba Genocide Memorial Complex, Ganja city, Nizami Ganjavi's mausoleum, and a number of museums. He pointed out that he wants to present examples of Pakistani literature to the Central Scientific Library and to hold their presentation.
Associate Professor of Persian Language Department of Lahore State College University, Dr. Babar Naseem Assi, Konul Bunyadzade, correspondent member of ANAS and Seyfeddin Huseynli, editor-in-chief of "World Literature" journal also spoke and shared their views on this event, which is a great contribution to future literary and scientific relations. At the end of the event, certificates were presented to a number of Azerbaijani intellectuals.