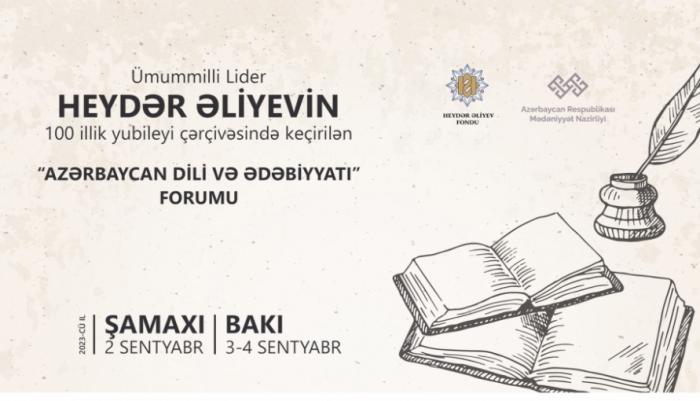 The Azerbaijani Language and Literature Forum will be for the first time held in Azerbaijan.
Co-organized by the Heydar Aliyev Foundation and the country's Ministry of Culture in partnership with the Ministry of Science and Education and Azerbaijan's National Academy of Sciences, the forum will be held on September 2-4 on the sidelines of the events dedicated to the 100th anniversary of national leader Heydar Aliyev.
The forum will facilitate extensive discussions with the literary and scientific community, focusing on various topics such as the role of Azerbaijani language and literature in preserving, developing, and promoting our culture, ensuring the integrity of the Azerbaijani language, exploring contemporary literary trends, addressing ideological aspects and modern challenges in children's literature, evaluating the current state of the national book industry, government support in this field, promoting a reading culture among children and youth, examining the impact of literature on the growth of theater and cinema, etc.
The forum, which will bring together well-known linguists and literary scholars, writers and publishers, is going to start on September 2 in the city of Shamakhi, which has given outstanding personalities to the literature and culture of Azerbaijan, and continue on September 3-4 in Baku.
The opinions and proposals of experts expressed during the forum will be collected and integrated into the state program "Culture of Azerbaijan 2040".
Individuals who wish to participate in the Azerbaijan Language and Literature Forum can register using the onine registration form available at the official website of the Ministry of Culture, "culture.gov.az" until August 25, 2023.