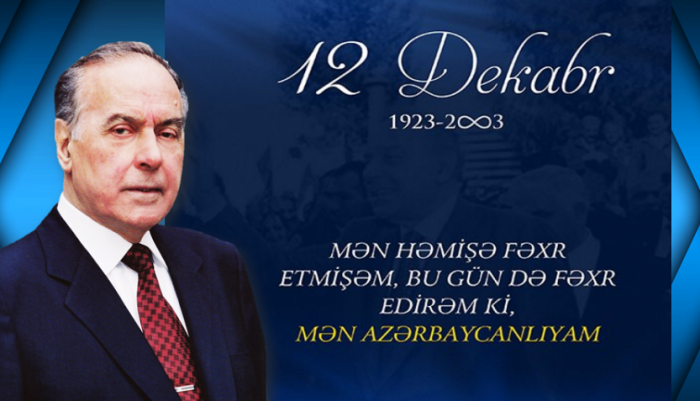 Politics and literature! It is interesting that Heydar Aliyev easily fits into this context, which very few leaders can fit into. Today, at a time when violence and aggression against people, weapons and power are challenging, the superiority of science and reason tends to lose its importance as if it is a second or third-rate object. The claim of power and dominance turns a person into something unnecessary. There were not few moments in human history where such situations were exhibited. What can be known, maybe the first piece of poetry in the world, and the first example of writing that will later be considered literature, was created out of a voice against the domination of man over man, nature and the world. They put the human factor against power and praised man, humanity: "He who loves man, his lover becomes freedom, / Yes, where there is freedom, there is humanity" (M.A. Sabir). Later, this idea stopped in the creativity of many of our writers from time to time. M. Fuzuli gave the same lesson to the kings by glorifying intelligence in the "Kingdom of Kings", or M.S. Ordubadi showed the superiority of the latter in the fight between the sword and the pen. Huseyn Javid says this with the image of our Prophet, or I. Huseynov in the novel "Mahshar" conveyed the failure of the ideals of the merciless king and in the opposite context - Nasimi's humanist poem, his interest in man and poetry in historical-philosophical plan artistic prose. This is a topic that is at the forefront of literature and is constantly drawn to the center of artistic thought in the form of the idea of a Great Man.
It is possible to bring thousands of corresponding examples. World history knows an infinite number of examples of the relationship between ruler and artist. The service of time to man starts from the fact that the person who controls its steering wheel is able to travel with time. Twice in the 20th century, along with the national man, the national literature was also lucky in that His Highness Zaman entrusted the "management function" of that period to Heydar Aliyev.
Literary newspaper. - 2022. - December 12.