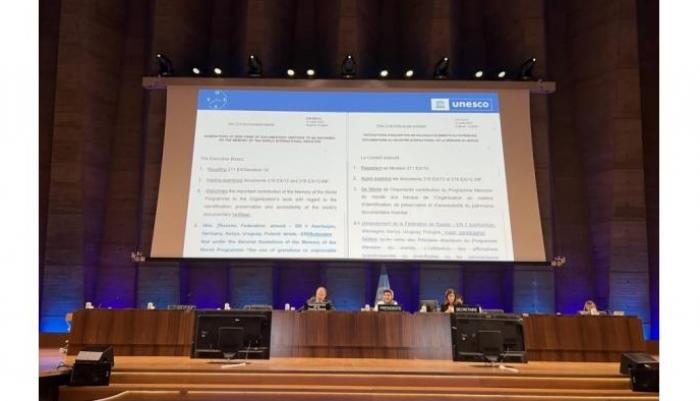 The 216th session of the UNESCO Executive Council continues. "Flower Book" of Khurshidbanu Natavan - album of illustrated verses" submitted for 2022-2023 for inclusion in the International Register of the World Memory of Azerbaijan (Memory of the World International Register) nomination was accepted by the Executive Council.
According to the rules, the list approved by the International Consultative Committee is submitted to the session of the UNESCO Executive Board for discussion and approval. The said nominations shall be deemed to have been registered after their acceptance during the 216th session of the Executive Council.
The document compiled by UNESCO and containing a brief description of the nominations shows that Khurshidbanu Natavan presided over a literary assembly in the country located in the Islamic East, at a time when women writers used male pseudonyms in 19th-century Europe. It is said that Natavan, who is considered the last heir of the Karabakh Khanate, has excellent knowledge and education. Natava's personality is presented as a phenomenon of the Azerbaijani woman. Natava's contribution to social life and cultural development of Azerbaijan is emphasized. The inclusion of Natava's poetry album "Flower Notebook" in the International Register of Memory of the World shows that the heritage of the Karabakh region of our country dating back to the 19th century is highly valued by UNESCO and its member countries.
The author of the presented nomination is Nigar Babakhanova, a scientist of the National Academy of Sciences of the Republic of Azerbaijan.
It should be recalled that three paintings in the poetry album "Flower Notebook" by Kh.Natavan were exhibited by the permanent representation of our country at the UNESCO headquarters on March 21, 2023, at the exhibition organized as part of the International Francophonie Day.