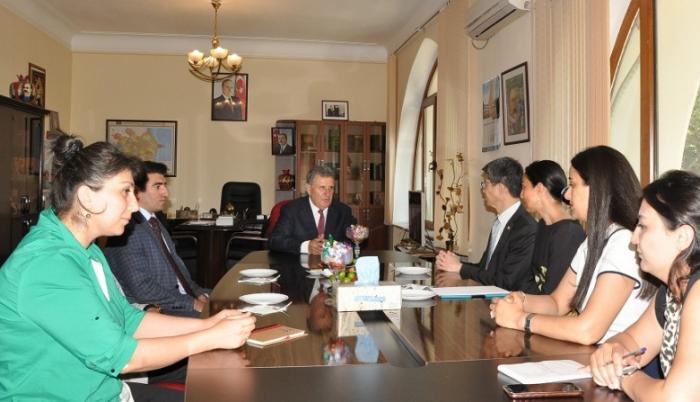 ANAS Nizami Ganjavi Institute of Literature held a meeting with Ambassador Extraordinary and Plenipotentiary of Japan to Azerbaijan Wada Junichi.
Vice-President of the Azerbaijan National Academy of Sciences, Director of the Institute of Literature, Academician Isa Habibbayli spoke on his visit to Japan in 2012 and mutual cooperation. Recalling that on his visit in Hrosima, Academician Isa Habibbayli spoke about the fate of the city similar to Agdam:
There is great interest, respect and esteem for Japan in our country. There are good relations between Nakhchivan University and Japan. These relations were established when I was rector, and now they continue at a high level. Our relations are developing at the level of embassies, diasporas and universities. We want it to develop at the academy level as well.
Gulnar Yunusova studied in Japan and learned Japanese. She studies Japanese literature and even translates from Japanese literature. Khumar Mammadova from Nakhchivan University is also writing a doctoral dissertation on Azerbaijan-Japan literary relations. Today it is Gulnar Yunusova's dissertation defense, I am her supervisor. Gulnar Yunusova is defending her dissertation on "Postmidernism in the works of Haruki Murakami" in the field of World Literature (Japanese literature) for the degree of Doctor of Philosophy in Philology. Haruki Murakami is one of the main figures of modern Japanese literature. This is the first time that an ambassador is involved in our defense. Gulnar Yunusova is an employee of the Azerbaijan-Asia Literary Relations Department, one of the youngest departments of our institute. The head of this Department is Doctor of Philology, Professor Badirkhan Ahmadli.
We talked to Khalil Kalantar to publish a book of stories by the great Azerbaijani writer Jalil Mammadguluzadeh in Japanese. I have written a Doctoral dissertation and many books about Jalil Mammadguluzadeh. So far, we have published his works in 11 foreign countries. Just as we know Haruki Murakami, we consider it important for the Japanese reader to know Jalil Mammadguluzade. Your visit expresses your support for the development of Azerbaijani-Japanese relations.
Then the Ambassador Extraordinary and Plenipotentiary of Japan to Azerbaijan Wada Junichi spoke: "Thank you for inviting us and for your kind words about the development of Japanese-Azerbaijani relations. As you know, Japan-Azerbaijan relations are developing in the political, economic and cultural spheres. It is also very important to develop in the field of literature. The research conducted by Gulnar will also play a positive role in the development of these relations.
This year marks the 30th anniversary of Japan-Azerbaijan diplomatic relations. At the same time, Gulnar's research work is a contribution to the development of this relationship. I have been in Azerbaijan for two years, and there are many things in common between Japanese and Azerbaijanis. I am glad that I can participate here and show my support".
After the official meeting, Gulnar Yunusova was defended Doctoral dissertation.
Public Relations Department