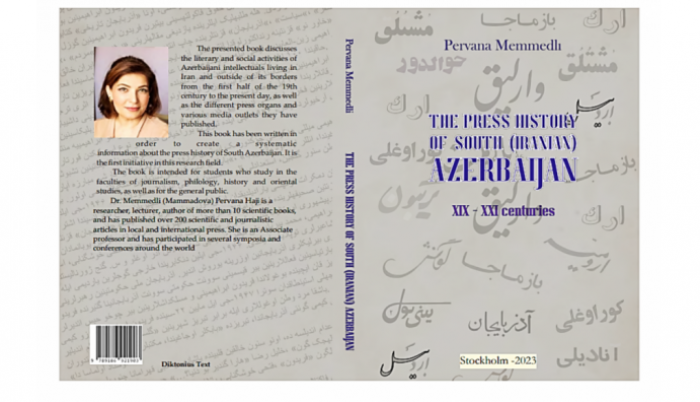 Parvana Mammadli is one of the well-known researchers about South Azerbaijan. Parvana Mammadli, ANAS Docent, Doctor of Sciences has published a large number of articles and books on this topic. Recently, his monograph "THE PRESS HISTORY OF SOUTH (IRANIAN) AZERBAIJAN" was published in "Diktonius Text" publishing house in Sweden (Stockholm, 2023).
In his book, the literary and social activities of Azerbaijani intellectuals living in and outside Iran from the first half of the 19th century to the present day, as well as the various press organizations published by them are extensively discussed. This book was written with the aim of creating a systematic database on the history of press in South Azerbaijan and is the first initiative in this field.
At the end of the book, one cannot disagree with the author's opinion: "Azerbaijani Turks settled not only in South Azerbaijan, but almost throughout Iran. It is natural that in Iran, the press owned by Azerbaijanis outside the borders of South Azerbaijan is also involved in the investigation.
Azerbaijanis, who have played a key role in the strengthening and progress of Iran for centuries, who spared their lives when the need arises, are still tirelessly fighting for their rights today. Even a simple number of each press sample published with difficulties in this sacred work has a great political and cultural significance."
One of the outstanding merits of Parvaneh Mammadli's book is the presence of many photos and documents. The author presented pictures related to newspapers and magazines, editors and other press people published in different periods in the "Photos and Documents" section at the end of the book.