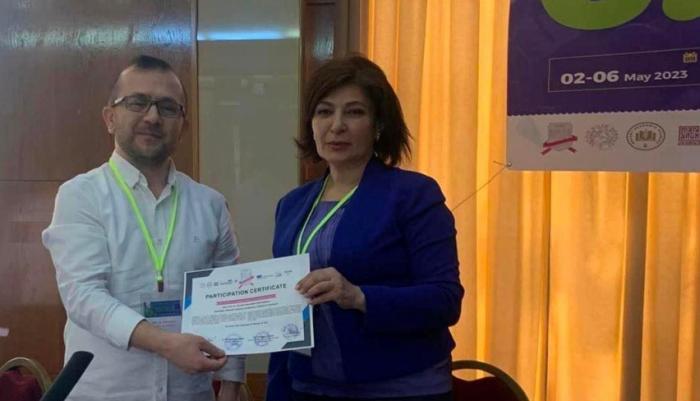 Associate Professor Parvana Mammadli, the leading researcher of the South Azerbaijan Literature Department of the Institute of Literature named after Nizami Ganjavi, participated in the VI International Congress of Contemporary Studies held in Tunis with a report.
The congress was organized by Turkey's Mardin Artuklu University, the Prestigious Science Association (Saybilder) and Tunisia's Carthage and Ibn Khaldoun Universities.
The event was attended by 23 different countries of the world (Azerbaijan, UAE, Algeria, People's Republic of China, Morocco, Palestine, Iraq, Spain, Qatar, Kyrgyzstan, Kosovo, Kuwait, Libya, Egypt, Nigeria, Senegal, Slovenia, Sudan, Saudi Arabia, Tunisia, Turkey , Oman, Jordan, etc.) speakers participated.
Parvana Mammadli, representative of Azerbaijan delivered a paper at the congress on "Voice and Language of South Azerbaijani Women" which is relevant today. The scientist's report was warmly received by the participants and questions related to the topic were addressed to him.
Parvaneh Mammadli was awarded with a special certificate and letter of thanks by Carthage and Ibn Khaldoun Universities of Tunisia, as well as Mardin Artuklu University of Turkey.