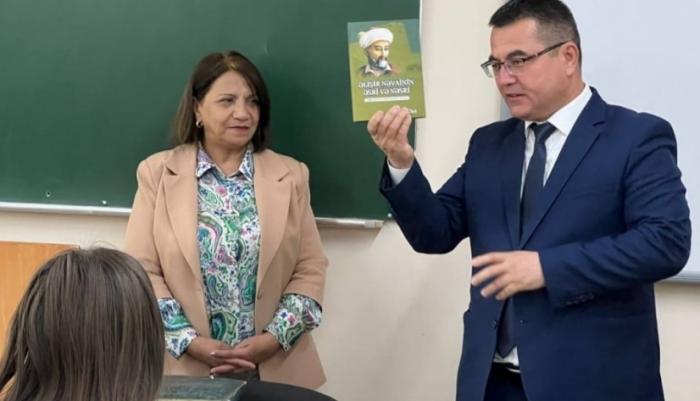 Almaz Ulvi Binnatova, head of Azerbaijan-Turkmenistan-Uzbekistan Literary Relations Department after Nizami Ganjavi, Doctor of Philology was invited to the Faculty of Philology of Urganj State University located in Urganj, the capital of Kharazm province of the Republic of Uzbekistan.
Almaz Ulvi Binnetova, laureate of the Order of "Friendship" of the Republic of Uzbekistan, honorary professor of the Tashkent State University of Uzbek Language and Literature named after Alishir Navai, narcissist Almaz Ülvi Binnetova started lectures on the subject of "Narcotics" for the students of the philology faculty of that university.
Dilshod Gayibov, the dean of the University's Philology Faculty, told the students about the cooperation between the two brotherly countries, as well as the Institute of Literature named after Nizami Ganjavi of ANAS and Urgenj State University. Almaz Ulvi, the guest of the students of the university, expressed his great respect for the people of Uzbekistan, especially the people of Khwarazm, and his great satisfaction with this visit.
The lectures of Almaz Ulvi Binnetova, doctor of philological sciences, will continue until April 29 of this year.