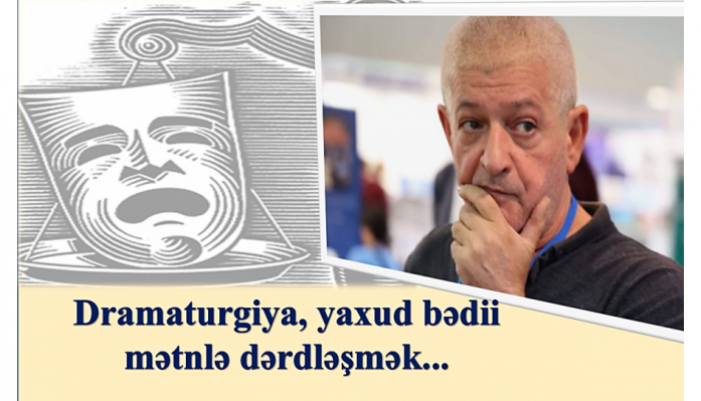 In literary criticism articles, we wrote from the vacant place of the idea, we should not forget that no word-idea comes to this world alone, there is some other word hidden next to it for discussion and language. When we ask what are the flaws of our present-day criticism (as well as, and even more, of literary studies), - along with the idea, another word definitely comes to mind. The writings are overflowing with beautiful similes, "extending" the content plan of the literary text in fantastic ways, and so on. Every essay must have drama. The style of literary historiography is templated and outdated. That's the missing component. In this way, you can come into contact with the text you are talking about, speak with it and reveal puzzling passages. These questions bring the work and its text back to the agenda. When you write, for example, from Hagverdiyev's "Hungry Letters" or "Khortda's Hell Letters", you create a structure for it, you create a field of debate with the author, and this debate spreads from the author to society, to the knot created by the meeting of the past and the future.
Bəli, bədii mətnlə dərdləşmək yox, dilləşmək, ona oppozisiya yaratmaq önəmlidir, girdiyin otaqların qapı-pəncərələrini açmalısan ki, dünya görünsün, bu dünyada o bəhs etdiyin mətləbi itirib tapmağa çalış, A.P.Çexovun mətnlərində olduğu kimi. Onun poetikasının ən əsas özəlliyi məhz budur - bu boyda dünyada itirdiyini kiçik detalların içində axtarmaq... Məmurun ölümü... Yaxud, Cənnətin qəbzi...
***
Dramaturgiya mətndə sözlər arasındakı cazibə qüvvəsinin idarə edilməsidir.
Öz başına gələnləri yazmaq. Belədə, yazdığın, oryaya qoyduğun ideya, fikir... kiminsə fikriylə, düşüncəsiylə üst-üstə düşə bilər və öz başına gələnləri yazmağın ən təhlükəlisi də budu... Birinci kim deyib,-kimi suallar dünyanın sonuna kimi davam edir. Ən orijinal fikir artıq dünyadan köç etmiş hansısa ideyanın yeganə yamaq tutmayan parçasıdır ki, tanrı kimi yada düşür, cilvələnir. Sənin başına gələn, içinə dolan hisləri, sanki kiminləsə görüşəndə duymusan, bunu ifadə edən sözləri kimdənsə eşitmisən, indi qəfil yada düşüb...
Öz başına gəlməyənləri yazanda dünyada var olan nə varsa, fikir, ideya, düşüncə... sürət qatarı kimi yanından şütüyüb keçir və sən xoşbəxt olursan...
Metaforalarla kiçiltmək mərəzi. Nizami Gəncəvidən, Füzuli və ilahi dili "tərcümə edən" klassikadan yazılan araşdırmalara baxırıq. Əksəriyyətində söz, məna sərhəddə dirənib, metafora qışqırır. Qan-qırmızı epitetlər, məcazlar, bu qədər şişirtmə bütün dünyanın tanıdığı, həzz aldığı, gözünə təpdiyi klassikanı kiçildir. Nizamini gətirib ancaq dinə bağlamaq, Füzulini təsəvvüfə, Nəsimini hürufiliyə bənd eləmək üslub hadisəsini bəri başdan istisna edir.
Ayaz Salayevin bir sözü var: dünyada elə hisslər var hələ adı yoxdu, dünyada insanlararası elə münasibətlər var, hələ adı qoyulmayıb... Gözəl bir mətnin içində bu hisslərə toxunmaq, onların səsini eşitmək şansı var...