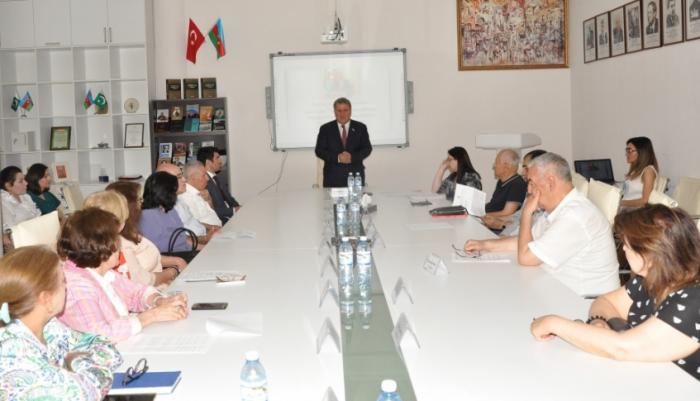 ANAS Institute of Literature after Nizami Ganjavithe next meeting of the Scientific Council.
The meeting was attended by members of the council, Departments heads and those involved in the agenda. The scientific council was opened by ANAS Vice-President, Director of the Institute of Literature, Academician Isa Habibbayli, who acquainted the participants with the current issues.
Scientific Secretary of the Institute, PhD in Philology, Associate Professor Aygun Bagirli delivered a scientific paper for the first half of 2022. She noted that the first half of the year was important for the Institute of Literature in terms of scientific achievements.
Aygun Bagirli informed on the implementation of the decrees and orders of the President of the Republic of Azerbaijan, decisions and orders of the Cabinet of Ministers, as well as the work assigned to scientific institutions in connection with the implementation of state programs. She recalled the visit of about fifty employees of the Institute of Literature to the city as part of the "Year of Shusha". At the same time, comprehensive information was provided on publications related to the "Year of Shusha", the publishing work of the institute, international relations and grants and other activities.
The head of the Education Department, PhD in Sociology Samir Sattarov voiced the relevant issues.
Printing and competition issues were also discussed at the scientific council.