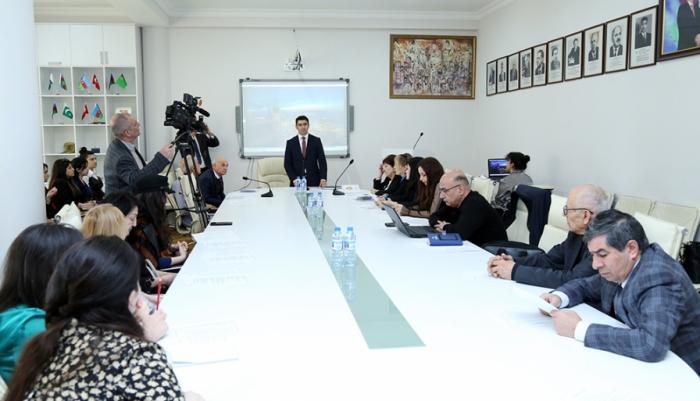 ANAS Nizami Ganjavi Institute of Literature held an event on "Creativity of the Nobel laureates in Literature of the Republic of Poland".
Executive Director of the Institute of Literature, Ph.D. in Philology, associate professor Mehman Hasanli opened the event with an introductory speech. He noted that the event organized jointly with Baku Slavic University is dedicated to the creativity of Nobel Prize laureates in Literature of the Republic of Poland. Of course, Azerbaijani-Polish literary relations have a very rich historical past. Especially at the beginning of the 20th century, these relations became stronger. Relations established after the restoration of independence of Azerbaijan constitute a new page of our relations. The Institute of Literature also made important contributions to the development of literary relations.
Vice-rector of Baku Slavic University, PhD in philology, associate professor Anvar Abbasov emphasized in his speech that he was satisfied with such cooperation established between the Institute of Literature and BSU.
At the event, Head of Department of World Literature and Comparative Studies, Doctor of Philological Sciences, Professor Guler Abdullabayova "Henrik Senkevich", Head of Education Department, Doctor of Philosophy in Sociology Samir Sattarov "Olga Tokarchuk", Senior Lecturer of Slavic Philology Department of BSU Elnara Abdulrahmanova "Vislava Shymborska", Alexander Kostin, representative of the Polish diaspora, delivered reports on "Promotion of Polish literature among the Polish community and students".
In the artistic part of the event, students of BSU's translation faculty performed selections from examples of Polish literature.