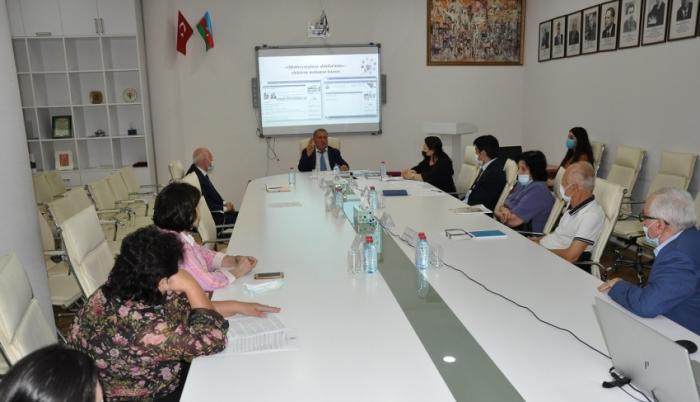 ANAS Institute of Literature after Nizami Ganjavi held next scientific council. The meeting was attended by members of the council, heads of various departments of the Institute.
The scientific council was opened by ANAS Vice-President, Director of the Institute of Literature after Nizami Ganjavi, Academician Isa Habibbayli, who acquainted the participants with the current issues.
First, the measures taken by the Institute in accordance with the Order of the President of the Republic of Azerbaijan Ilham Aliyev dated January 5, 2021 on the proclamation of 2021 as the "Year of Nizami Ganjavi" and the tasks ahead were discussed. Academician Isa Habibbayli has gave detailed information on the events and conferences, as well as several new publications. These are "Brotherly Pens" and "Turkish Literature" jourrnals, dedicated to Nizami Ganjavi, as well as "Nizami Ganjavi and Turkish Literature" book by Nushaba Arasli. In general, 18 books and 5 journals have been published by the academy.
Then, Professor Maharram Gasimli informed on the activities, carried out by the Institute and the tasks ahead in accordance with the Order of the President of the Republic of Azerbaijan Ilham Aliyev dated February 18, 2021 on the celebration Ashig Alasgar's 200th anniversary. He informed the participants on "Legends of Ashug Alasgar" book, a joint publication of the Institute of Literature and AAB and the conference to be held in October.
In addition, discussions were held on the celebration of the 110th anniversary of People's Writer Mirza Ibrahimov and preparations for the international scientific conference "The world and ideals of Yunus Emre's art" to be held at the Institute in connection with the "Year of Yunus Emre and the Turkish language" announced in Turkey.
It was decided to celebrate the 85th anniversary of Farida Valikhanova, senior researcher of the "Azerbaijani literature of the XX century" Department of the Institute, honored scientist, Doctor of Philology, Professor.
Then, head of the Department, PhD, Associate Professor Zakira Aliyeva informed on the 20-year activity of the Department of Scientific Information and Translation of the Institute.
Samir Sattarov, Head of the Department of Education, PhD in Sociology, informed on the approval of the scientific supervisor and topics has admitted to the doctoral and dissertation programs for 2021, discussion and approval of master's curricula and other issues.
Scientific Secretary of the Institute, PhD in Philology, Associate Professor Mehman Hasanli informed on done works. .
Gulnar Sema
Public Relations Department