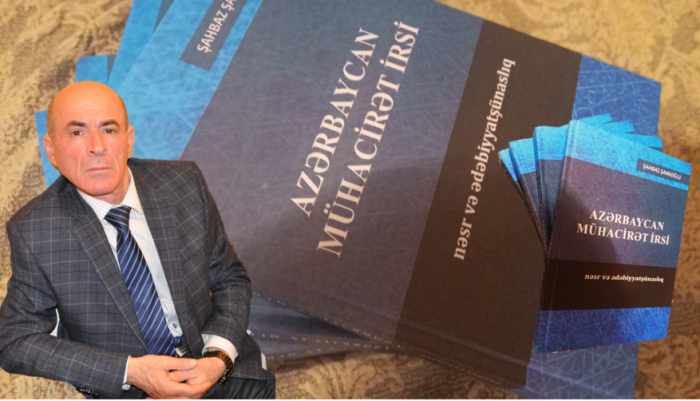 The monograph "Azerbaijani emigration heritage: prose and literary studies" by Dr. Shahbaz Shamioglu, senior researcher of the Department of New Era Azerbaijani Literature, Department of Literature named after ANAS Nizami Ganjavi, was published in "Science and Education" publishing house. The scientific editor of the monograph, which was published by the decision of the Scientific Council of the Institute of Literature No. 1 dated February 8, 2023, is the head of the department of Azerbaijan emigration literature of the Institute, doctor of philological sciences Nikpur Jabbarli, the reviewers are doctors of philological sciences Abid Tahirli and Ataami Mirzayev.
In the first chapter of the monograph, the formation and development directions of Azerbaijani emigrant prose were studied based on the stories of emigrant writers, the artistic and philosophical prose of A.Agaoglu, the memoirs of M.A. Rasulzadeh, A.Agaoglu, N.Sheykhzamanli and M.Altunbay. In the second chapter, the literary heritage of emigrant researchers on issues of the Renaissance and Middle Ages, Early Modern Period, New Period and XX century (Soviet period) Azerbaijani literature was investigated.
It should be noted that the work "Emigration heritage of Azerbaijan: prose and literary studies" is Shahbaz Shamioglu's eighth monograph. Until now, the literary scholar's works have been published in scientific journals (Web of Science, Ulakbim, ERIH PLUS, Copernicus, etc.) included in the international indexing and summarizing systems in Turkey, USA, Canada, Brazil, Mexico, Ukraine, Russia and other countries. published in materials of various international scientific conferences.
The monograph "Emigration heritage of Azerbaijan: prose and literary studies" may be necessary for undergraduates and masters of higher schools, as well as researchers conducting research on the problem.